Technology Innovation for Shared Growth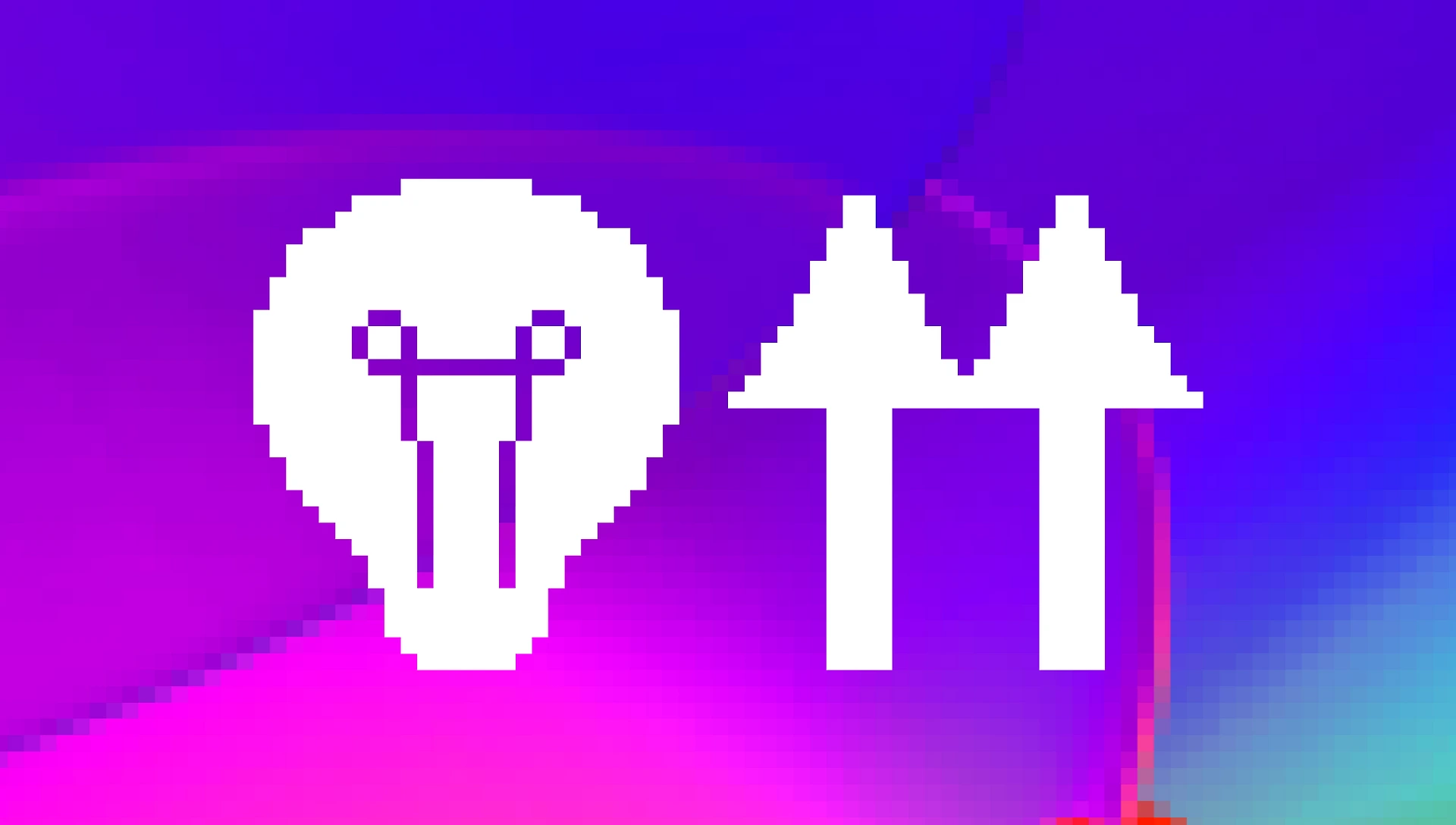 Technology Innovation for Shared Growth
Kakao's technology innovation 'A better world created with technology and people'
In pursuit of technology innovation, Kakao aims to render our daily lives even more convenient and create a transparent and safe internet community. The ultimate goal of our technology is to build on the technological achievements we make along this journey to create a business ecosystem where we promote shared growth with Kakao users, our partners and all members of the development ecosystem. We believe that AI, cloud, mobility technology and blockchain technologies are the ones that will have a significant impact on our present and future business operations. R&D organizations at Kakao and the Kakao Community are studying these technologies, and we engage in joint technology developments, technology partnerships, startup investments and industry-academia collaborations with wide-ranging partners. We will continue with our investments and endeavors to develop the world's top-notch technology. This will be accompanied by sustained efforts to share what we achieve with domestic/international developer communities and seek shared growth.
<R&D Expenses>
FY2021: KRW 764.5 billion
FY2020: KRW 535.4 billion
FY2019: KRW 467.4 billlion
Kakao opens unlimited possibilities for all with the help of AI.
AI Recommender System
AI (Artificial Intelligence) refers to technology that enables computers to mimic human cognitive activities and artificially perform such activities, and spans all of the situational recognition, logical thinking and creative performance abilities. AI-enabled recommendations are widely accepted in our everyday lives in line with the accelerating pace of information generation. Recommendation systems are a type of information filtering system that helps users find what they want and diversify their consumption patterns to even discover new tastes previously unnoticed. Such recommender systems are gaining greater importance amid the rapid growth of information volume, and their technology is advancing further in line with the evolving AI-enabled technology. Kakao deploys recommender systems for most of its service offerings and delivers users a new and better information consumption experience.
- Evolving Recommender Systems in Our Daily Lives -
Recommender systems increasingly make significant contributions to any given service. Most of the information that users encounter while using services is exposed through such systems, which naturally changed the role of recommender systems. While their role was to improve short-term user satisfaction measured by the number of clicks and length of stay, their focus has shifted to long-term satisfaction factors such as revisit/repurchase rates. To bring greater longterm satisfaction to users, Kakao's recommender system team is developing indicators to quantify such experience and studying AI-assisted recommendation algorithms. Research is underway to look into methods to improve the diversity of recommendations while not compromising users' short-term satisfaction and to combine recommendation algorithms that have differing characteristics.
- Kakao's AI Recommendations in the Future -
Our current AI recommendation service is the result of combining all the recommender systems produced through our R&D efforts. In addition to content-based filtering and collaboration filtering which are generally known as the core technology of recommender systems, our service harnesses virtually all technologies required to present recommender systems in their finished product form for user applications. As the advent of deep learning opens up even more opportunities for AI-enabled technology, this will render the content consumption experience delivered by Kakao AI recommendations more proactive. It will deepen our understanding of the context surrounding user experiences and bring greater joy to individual users in discovering their newfound tastes.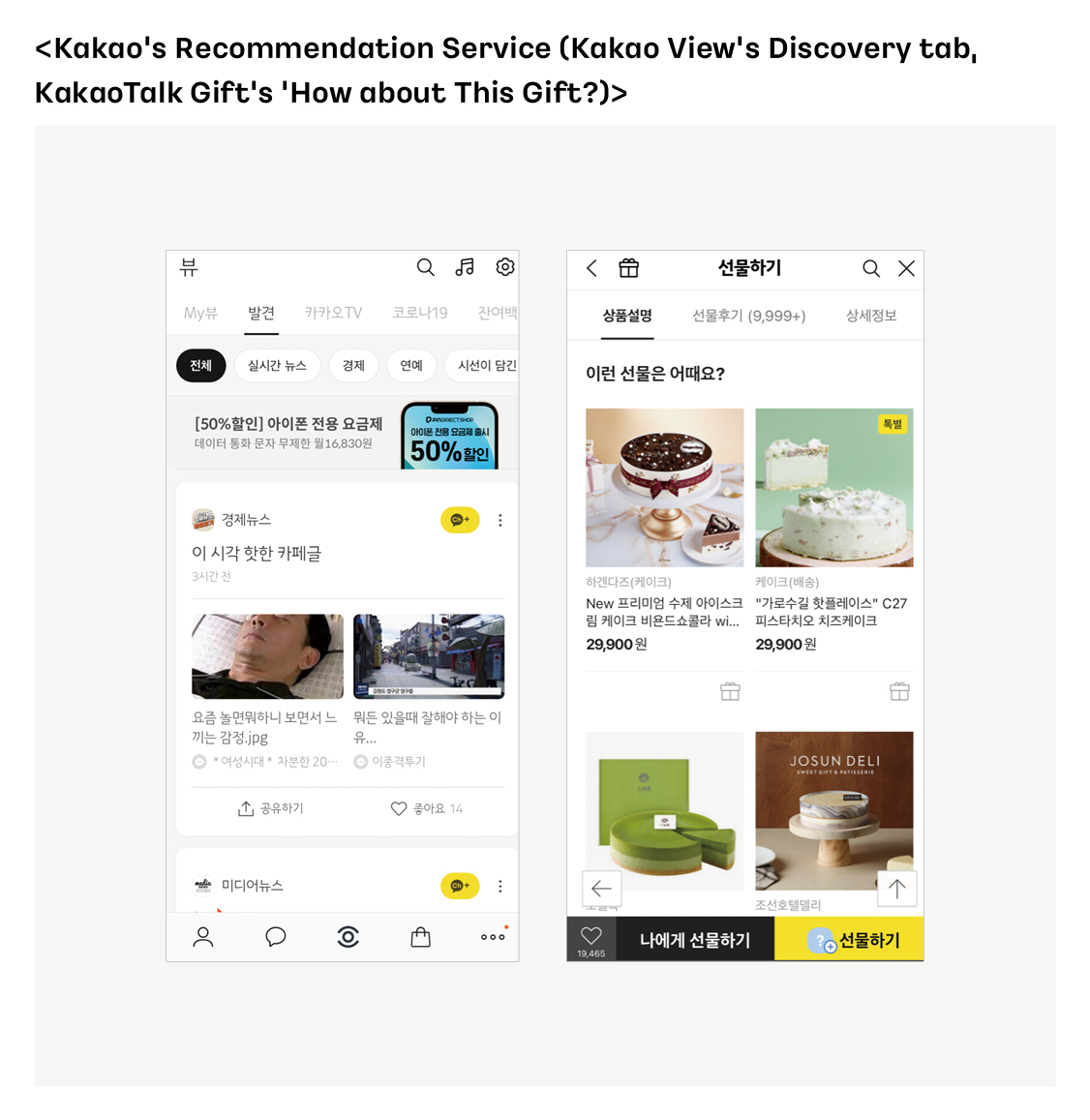 AI Computer Vision, Natural Language & Voice Processing Technology
Kakao Enterprise has built an AI technology portfolio which includes computer vision to perform human-like vision functions, natural language processing for machines to understand and analyze natural human languages, and speech&audio processing to understand and generate human voices.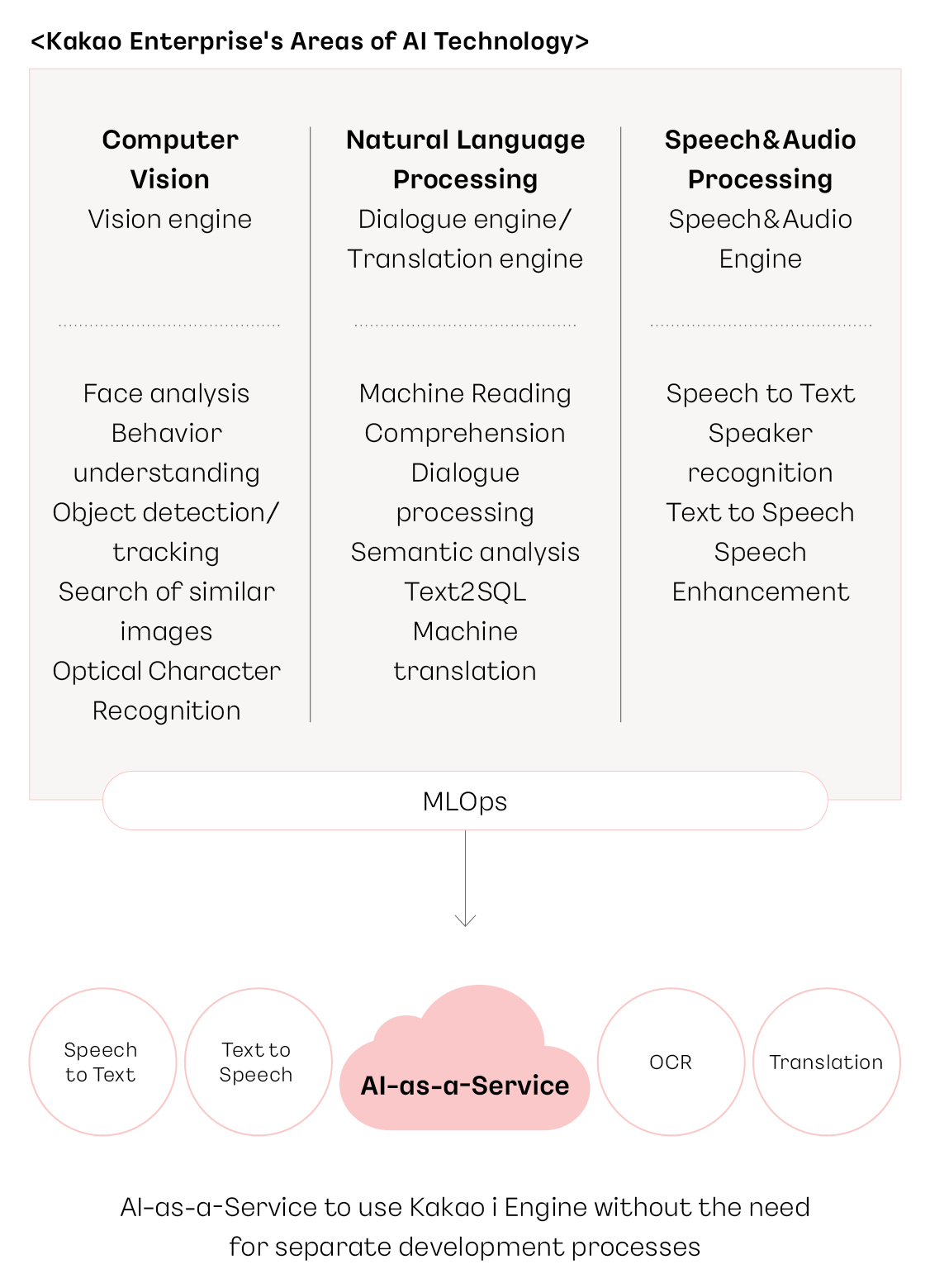 - Kakao i Connect Center as an AI Customer Center Platform -
Kakao Enterprise provides the Kakao i Connect Center as a customer center service that leverages AI technologies in the areas of speech-to-text, text-to-speech and natural language understanding. This AI-enabled customer center is able to respond to customer needs 24/7, at any given time and irrespective of holidays. AI chatbots, callbots, and counselor assistant bots support counselors to deliver optimal customer services, and take on the role of these human counselors after their work hours.
Harnessing the exceptional speech recognition and natural language recognition capabilities owned by Kakao Enterprise, this service provides AI-assisted services just as human counselors do and is able to carry out natural-sounding conversations by demonstrating outstanding performance in recognizing word errors or newly-coined terms spoken by customers. Not only does this customer center conduct counseling based on previous counseling records, it also sends alerts through KakaoTalk before and after counseling to further improve customer convenience. Such technological capabilities help facilitate users' service experience and elevate the efficiency of counseling work for businesses.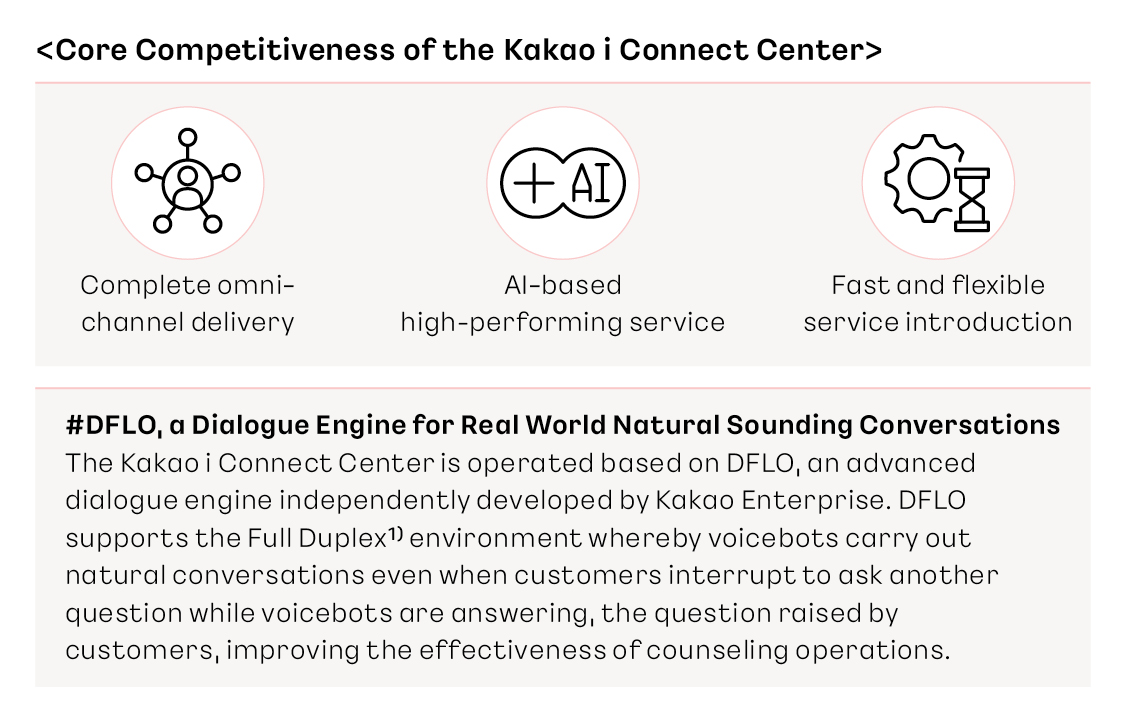 1) An interactive communication system which transmits and receives data simultaneously to create an environment to engage in natural real world conversations with AI
Releasing a Super-Giant AI Model
A variety of services are emerging recently by applying GPT-3, a large-scale language model developed by the global AI laboratory OpenAI. GPT-3 is a natural language model powered by deep learning with an extensive amount of data sets and parameters. This AI model which supports natural language-based communication between humans and AI is recognized for its achievement in pushing the boundary of deep learning and ushering in an era of next-generation AI. Kakao Brain developed KoGPT which explores unlimited possibilities of GPT-3 in Korean and shared it at GitHub, the world's largest open source community.
- Unveiling KoGPT, Korean-based Super Giant AI Language Model -
Kakao Brain's KoGPT is a Korean version of GPT-3 based on Korean data consisting of 6 billion parameters and 200 billion tokens as of November 2021. KoGPT is capable of performing all tasks utilizing language, including but not limited to judging whether a given sentence is positive or negative, rephrasing a long sentence in one line, predicting a conclusion by inferring a sentence, and answering questions by understanding the context. It also supports context-dependent automatic writing to complete highly-sophisticated language tasks, which can be applied to wide-ranging areas. For instance, KoGPT is able to analyze shopping mall product reviews, summarize them in one line or judge whether they are positive or negative. Also, it is possible to make KoGPT learn college textbooks, understand the context, and give a smart answer. Kakao Brain has shared KoGPT as open source to make this technology easily accessible by universities and startups. Kakao Brain plans to continuously release super-giant Korean AI language models to widely share its innovative technology, contribute to the domestic IT industry and its R&D work, and resolve a range of social issues in so doing.
# Unveiling minDALL-E, a Massive-scale AI Multimodal Model
MinDALL-E was made public by Kakao Brain in just one month after it unveiled KoGPT. This multimodal AI model is capable of understanding texts and images simultaneously. When a user enters a text command, this image generation model delivers desired images in real time.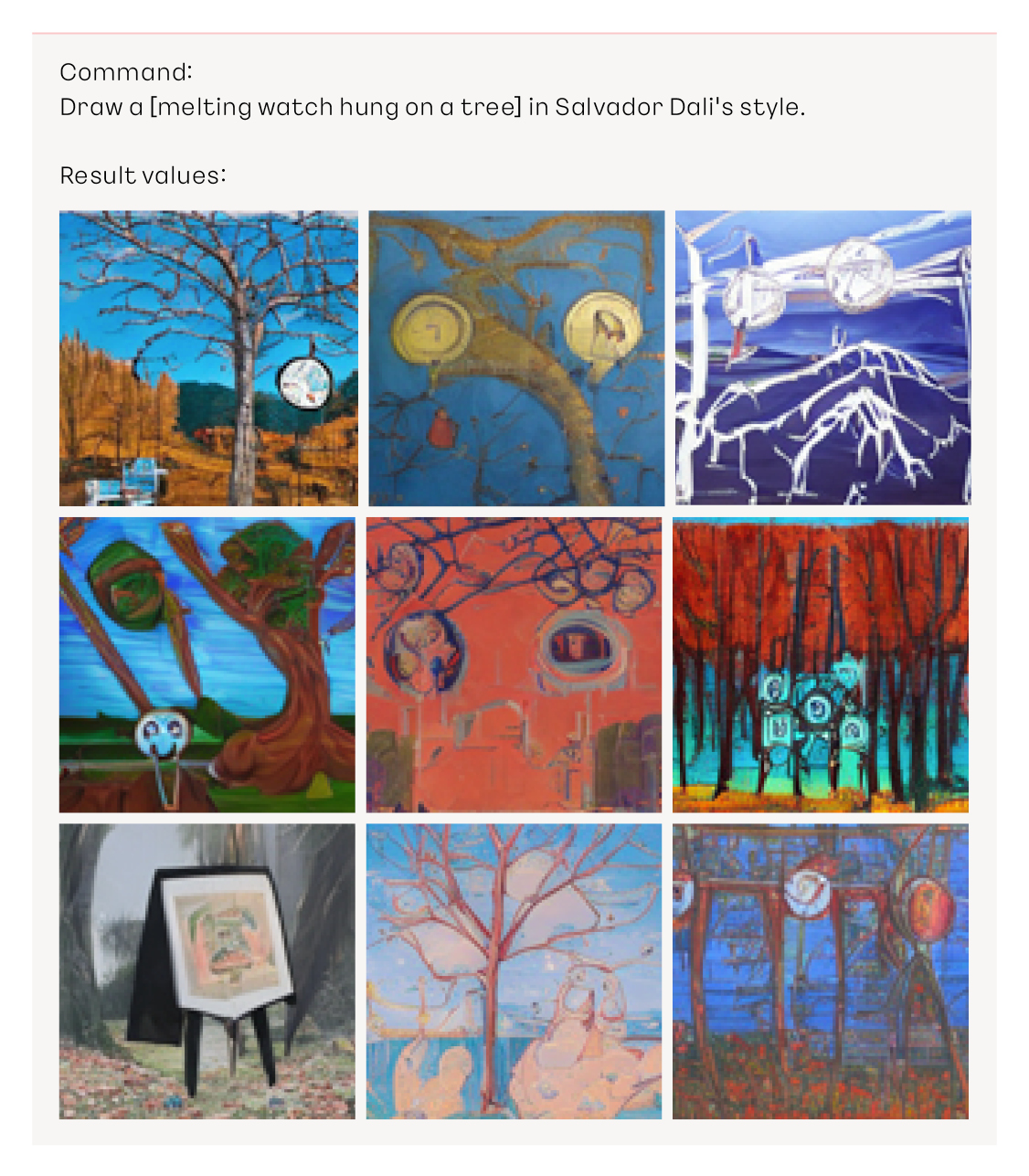 Kakao delivers lightweight and fast services in the cloud.
Cloud Computing Service
Cloud computing refers to a way of accessing databases, software, servers and other IT resources through the internet. Kakao is committed to the evolution of cloud technology to allow more people to easily create services and automate operations.
- Operating Serverless Cloud Platform -
Serverless computing allows users to automatically perform desired functions when specific events occur indicating a change in service status without having to consider server management. Kakao is developing the event processing service to collect event data from Kakao's all cloud services and process them to ensure agility in service delivery to their intended application.
- Developing Time Series Database -
We operate a proprietary-owned time-series database to address difficulties in failure recovery and distributed processing in a range of metric and log management systems of event-based cloud computing. The database enable automatic failure recovery and distributed processing to improve overall functionality and reduce operational costs.
Developing Hardware for Optimal Cloud Services
Kakao Enterprise continues with in-house R&D efforts on hardware as well as software to equip data centers with customized solutions that deliver greater efficiency to cloud infrastructures and services. In February 2022, we launched FPGA-based SmartNICs through joint development with Xilinx. FPGAs (Field Programmable Gate Arrays) allow users to directly configure digital circuits for the given application, and combine the exceptional flexibility of CPU (Central Processing Unit) and the fast processing performance of ASIC (Application-Specific Integrated Circuit) to enable users to flexibly change the internal logic of software and achieve even higher performance. Kakao i Cloud servers that leverage FPGA-based SmartNICs support users with software reconfiguration or provisioning for performance improvement without the need for hardware change. Furthermore, FPGA-based SmartNICs reduce cloud CPU use by 50% or more while reinforcing application performance by up to 600% compared to existing solutions, and SmartNIC-mounted virtual servers help with more than half of the power consumption and operational cost compared to ordinary ones.
Kakao i Cloud, an Integrated Enterprise Cloud Platform
Comprehensive Cloud Platform for Businesses, Kakao i Cloud provides a stable and high-performance Cloud service known for its superb track record in IT infrastructure and operation technology, which have supported Kakao's suite of services over the past ten years. Various infrastructure environments, including Public, Hybrid, Private are available. Kakao i Cloud enables a customizable operation of service through its flexible and expandable cloud platform. Furthermore, it supports the convenient and efficient operation of cloud services based on expandable and high-performing network architecture.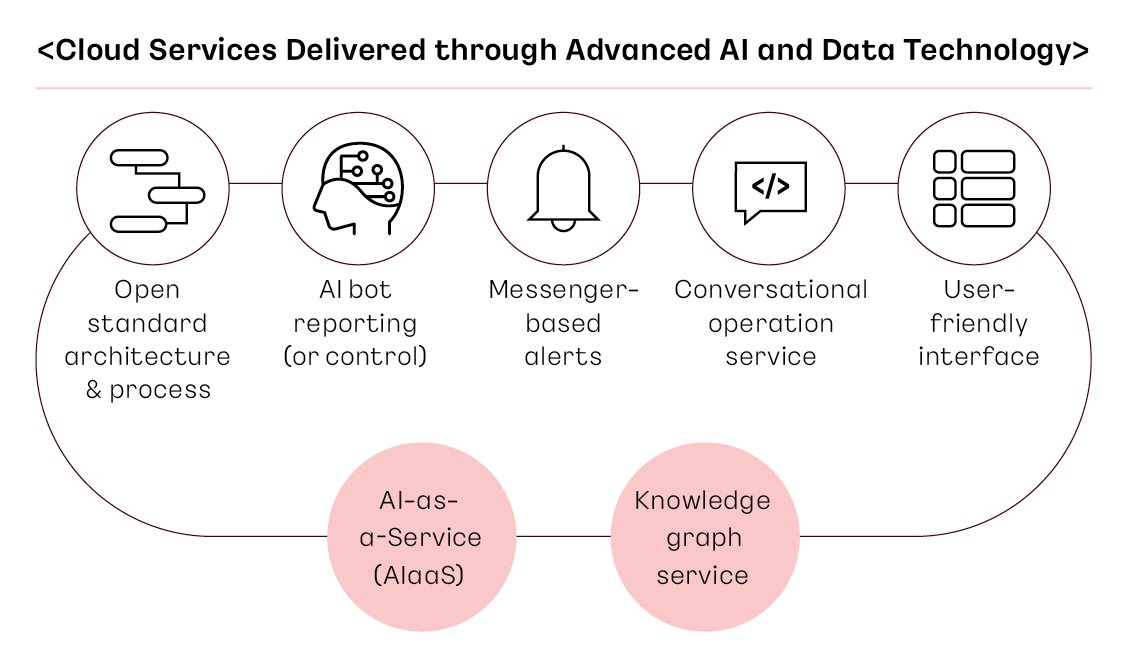 Kakao leverages mobility technology to render our cities smarter by offering convenient and safe mobility for all.
Mobility-Digital Twin
A digital twin is the identical representation of real-life objects and spaces in the digital virtual environment. Kakao Mobility deploys mobility digital twins to build virtual environment infrastructure that will lay the basis for AI-enabled future mobility services. Mobility digital twins consist of HD maps, real-time urban and service data, and AI training & service optimization simulations, and are applicable to autonomous driving and the wider smart mobility sector.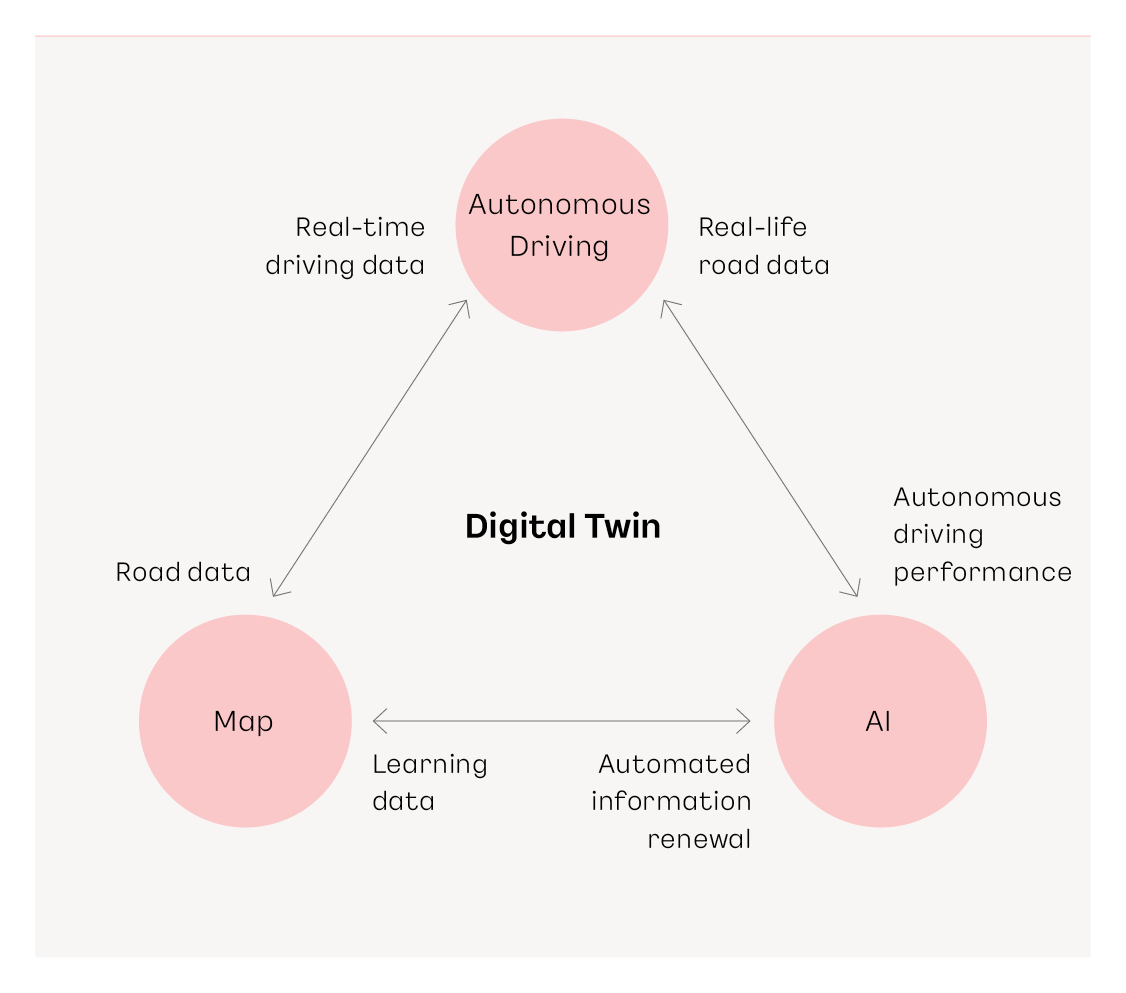 Laying the Basis for a Smart Mobility Ecosystem
Mobility digital twins are open to all participants wishing to provide AI-based mobility services with an aim to facilitate the creation of an industrial ecosystem. Kakao Mobility will serve as an integrated data platform: it will provide the traffic, service and self-driving data it collected through mobility digital twins, and participating companies will contribute to the cumulation of their training and operational data. Mobility digital twins will be first applied to autonomous driving, which is embracing AI most actively, and will be expanded into the entire smart mobility sector.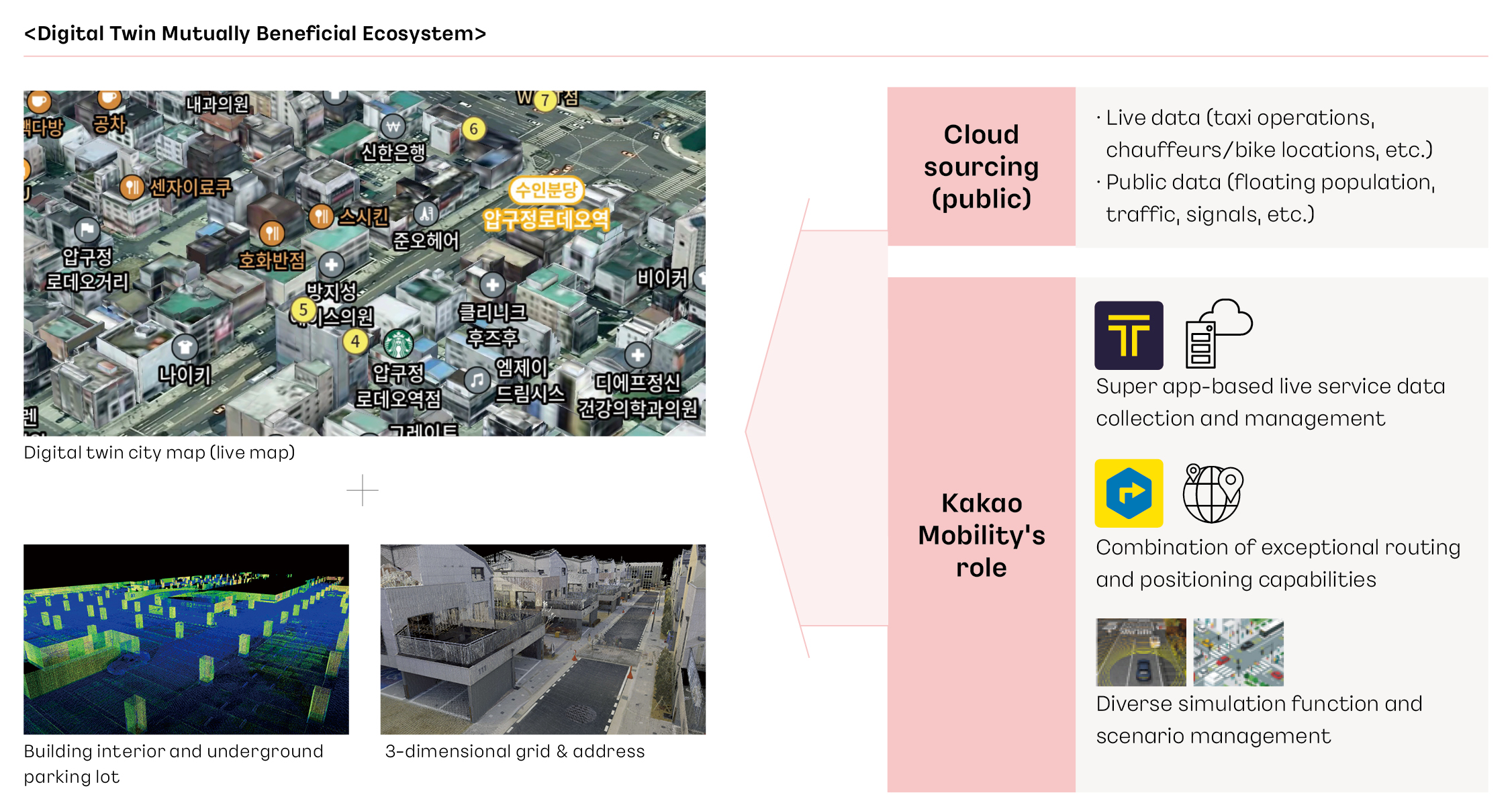 # Smart City Envisioned by Kakao Mobility
Kakao Mobility pursues a smart city where people live a more fulfilling life rather than spending their time and resources in meeting mobility needs and are provided with convenient and safe mobility. We will harness predictive analytics as well as wide-ranging mobility data to minimize unnecessary movement while supporting the mobility of things and services just as users wish in an advanced future city. While providing easier access to mobility services through autonomous driving and AI technology, we will thoroughly consider the convenience of mobility for people with mobility impairments so that we create a smart city where no one is left behind.
: A city built with data and developed with systems
: A city that delivers freedom as mobility
: A city that provides convenient and safe mobility for all
Kakao harnesses blockchain to lead a trustworthy digital ecosystem.
Blockchain Platform
A blockchain stores data in a network that consists of a number of computers or nodes. Data is stored in inter-linked blocks, and once recorded, such data becomes immutable and tamper-proof. A blockchain network ensures its fidelity and is operated based on the consensus reached among decentralized nodes. A blockchain platform serves to provide infrastructure to leverage blockchain technology in developing real-world service applications.
- Klaytn, a Transparent and Safe Blockchain Platform -
Klaytn is the global public blockchain platform independently developed by Kakao to create a more transparent and safer internet community. Klaytn provides Klip, a digital asset wallet readily available for any KakaoTalk users, to provide improved user accessibility to the blockchain. A consensus algorithm that generates and instantly confirms new blocks every second was developed to ensure the safety of transactions, prevent duplicate payments and immediately complete all transactions in blocks. Klaytn also ensured that all transactions within the blockchain are immediately completed. Klaytn's fast splitsecond performance, along with the convenience of Klip, ultimately delivers improved user experience. Meanwhile, Klip Drops allows for the trading of limited edition digital arts, and harnesses blockchain's NFT(Non-Fungible Token) technology to provide proof of ownership of digital assets and enable safe trading, establishing a new creator economy.
- Providing a Convenient DApp Development Environment -
Klaytn provides a development environment to help developers easily develop decentralized applications or DApps. In particular, Klaytn is maximizing compatibility with Ethereum, a leading smart contract platform and elevating developer experience (DX) to ensure DApp developers on the Ethereum platform can easily work on Klaytn. Also, efforts are underway to open source Klaytn codes as well as numerous development tools in the blockchain ecosystem to scale up the ecosystem. Through this, Klaytn aims to offer a DApp-friendly environment to contribute to reinvigorating the industry and boost the open source ecosystem to join efforts in advancing many technology areas of blockchain.
# Klaytn 2.0, the Metaverse Blockchain for Al
Klaytn is striving to bolster the accessibility of blockchain technology to bring more users to participate in the revolution of Web 3.0, a personalized and intelligent online ecosystem powered by blockchain and become a trust layer that connects all people across the globe. Specifically, Klaytn was envisioned as an underlying trust layer to evolve into a blockchain platform specializing in metaverse that respects and supports all communities for their engagement and contribution and aligns them all towards a new world. Klaytn 2.0, under development as a 'one-stop' chain for metaverse builders, plans to provide open source development infrastructure packages and a high performance mainnet. To create a collaborative Web 3.0 infrastructure and support the expansion into a metaverse ecosystem, we will combine Klaytn's robust community and technology to open up new opportunities and drive innovation.
<Unique features of Klaytn 2.0>
· Metaverse package: Provide tool sets to facilitate the development for metaverse and total ecosystem packages
· Transaction finality: Enable high TPS (Transaction Per Second) and decentralization while maintaining 1-second finality and preventing from reverting transactions
· Ethereum compatibility: Support EVM (Ethereum Virtual Machine)-based DApps onboarding without modification
· Decentralized governance: A special governance structure where DAOs (Decentralized Autonomous Organizations), builders and enterprises participate to ensure stable decentralization
· Large-scale ecosystem funds: Support promising projects by raising USD 1 billion funds and offering grants, investments, and compensation programs
Technology Innovation Made Faster and Greater through Partnership
When it comes to technology innovation and new discovery, we can do faster and more when we are together than we can alone.
Innovative processes, manifested in an open culture of development and innovative work methods, accelerate new discoveries made by our Krew. Our relentless pursuit of innovation is fueled by our firm belief that as we reach the final destination of our journey towards innovative work methods, we will eventually achieve service innovation for users. Kakao intends to bring external innovators to join this very journey we are taking. By sharing our technology capabilities with all ecosystem participants in need of such capabilities, we seek open innovation for shared growth. In doing so, we will discover more and grow further and create a better world with technology through partnership.
Process Innovation with Our Krew
It is our Krew who are the source of our technology competitiveness, and our Krew members can become even more competitive through innovative work methods. This philosophy drives Kakao to keep journeying ahead towards an open culture of development and innovative work methodology. Our endeavors for innovative work methods began when we organized a task process standardization TF in 2018, whose work was carried on by the Open Task Force set up in 2019 and by the Agile Coach Part created in 2020. Our pursuit of open work as our work methodology makes our work more open-minded and efficient, and eventually improves our user service.
<Kakao's Work Culture>
· Self-initiative: Delegate authority to the right person for self-initiated and prompt decision-making
· Openness and sharing: Share everything from opinions stated and discussions made to their final conclusions
· Horizontal communication: Engage anyone in the decision-making process as long as he/she is the right fit for the given task
Open Work, Kakao's Distinctive Work Methodology
Kakao has continued with its journey to create a more openminded culture of development. As part of this journey, we defined Open Work as Kakao's distinctive work methodology. Open Work ensures that work performed by all Krew members is made open in an objective and transparent manner.
<Principles of Open Work>
1. Find information without the need for asking. All work – my work, colleagues' work, organizational work and project work – is open to anyone. #open #sharing #open information
2. Far from merely existing in an open space. This does not refer to information that is fragmented or just flowing. You don't need to intentionally look for it since it is always there in accordance with the set rules. #rule #process #standard
3. Just being open does not mean that work is truly open. Related work should be all connected as one. #SSOT(Single Source Of Truth)
4. It should also be documented how important each task is. #Alignment #value #context #quantitative operation
Developing Management Tools to Practice Open Work
Kakao embraced Jira as a standardized in-house work management tool to ensure that Open Work does not remain a mere abstract concept but is fully embedded into our day-to-day work. Jira supports our work and collaboration across all phases through a single tool. In tandem with this, we developed our work process by defining the JCMM, a Jira-based capability maturity model, to improve our work management capability and encourage productivity, visibility and efficient behavior.
<JCMM(JIRA Capability Maturity Model)>
· Level 1 | Initial : Visualize all work
· Level 2 | Managed : Establish visibility for detailed work information and its progress made
· Level 3 | Defined & Standardized : Standardize management rules for company-wide operations and projects
· Level 4 | Quantitatively Managed : Ensure proper data management for objective work execution
· Level 5 | Optimizing : Optimize through continuous improvement across all processes
Improving Our Mobile App Development Environment
Kakao continuously develops and launches a range of mobile apps, and conducts quality tests on these apps as an essential part of its process to deliver valuable service to users. As work-at-home became the norm in the wake of COVID-19, we faced limitations in performing tests on a variety of devices on an as-needed basis. This prompted us to introduce device farms as a service to operate devices and test apps through remote access to actual mobile devices in the cloud environment with an aim to improve our app testing environment.
- Making Our Mobile App Testing Automatic and Efficient -
Device farms assist our testers to perform automatic repetitive tests on mobile apps through pre-defined command scripts, without manually operating mobile devices. It also supports the real-time sharing of the screen under test and test results with colleagues while reproducing the issues that occurred to take stock of the status and identify improvements through collaboration.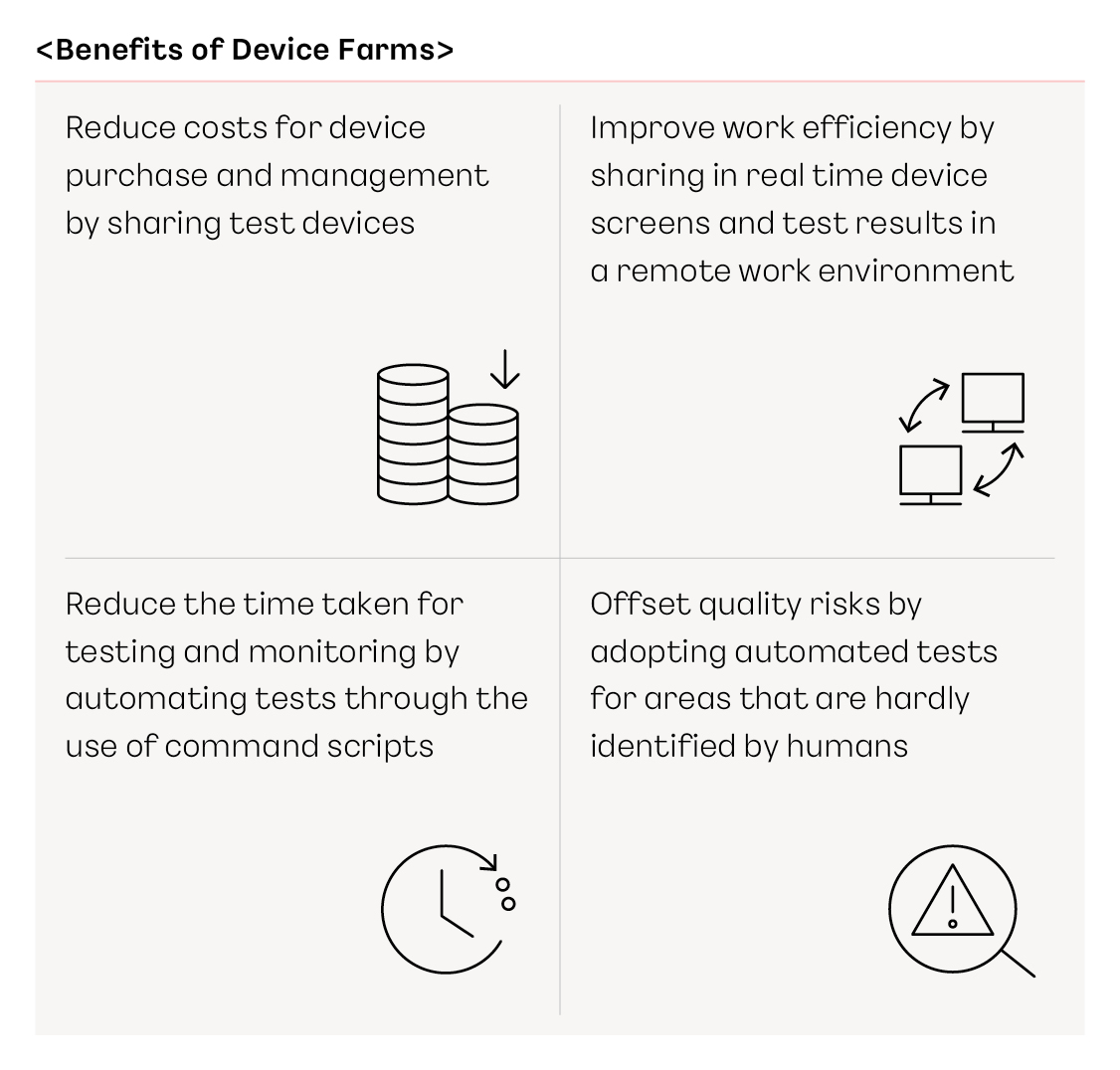 Service Innovation for Improved User Experience
Kakao improves user experience by reflecting cutting-edge technology in its service innovation. We never take for granted any inconveniences in our current service offerings and resolve them with the help of technology and innovation to bring us one step closer to a more convenient future that we envisage. Our efforts will translate into improved user experience: users won't need to expose themselves to unnecessary information or click multiple times in search of desired content, nor get their public certificate ready or memorize complicated passwords for log-in or authentication. Going forward, Kakao's services will fulfill their intended role as a result of its sustained consideration and innovation for the betterment of user experience.
Kakao View, Personalized Content Curation
Kakao View is our new content platform that provides content curated from diverse viewpoints. Its recommendation algorithm creates the optimal Kakao View content configuration screen for each user, and is evolving in a way to bring greater long-term satisfaction to users.
- Kakao View Content Recommendation Process -
We analyze topics based on the texts contained in boards published by editors and use the results to recommend the boards that bear similarities with the ones frequented by users. To keep our recommendations diverse and up-to-date, we filter out content that runs counter to our operational policy and place limitations on outdated boards and the number of board recommendations per Talk Channel. We then collect data on the responses made by individual users to boards and apply our Contextual Bandit algorithm that optimizes our recommendations to suit individuals' content consumption patterns. Finally, we prevent users from being continuously exposed to boards addressing identical topics and restrict the number of boards published by each channel so that users are given an opportunity to explore more diverse content.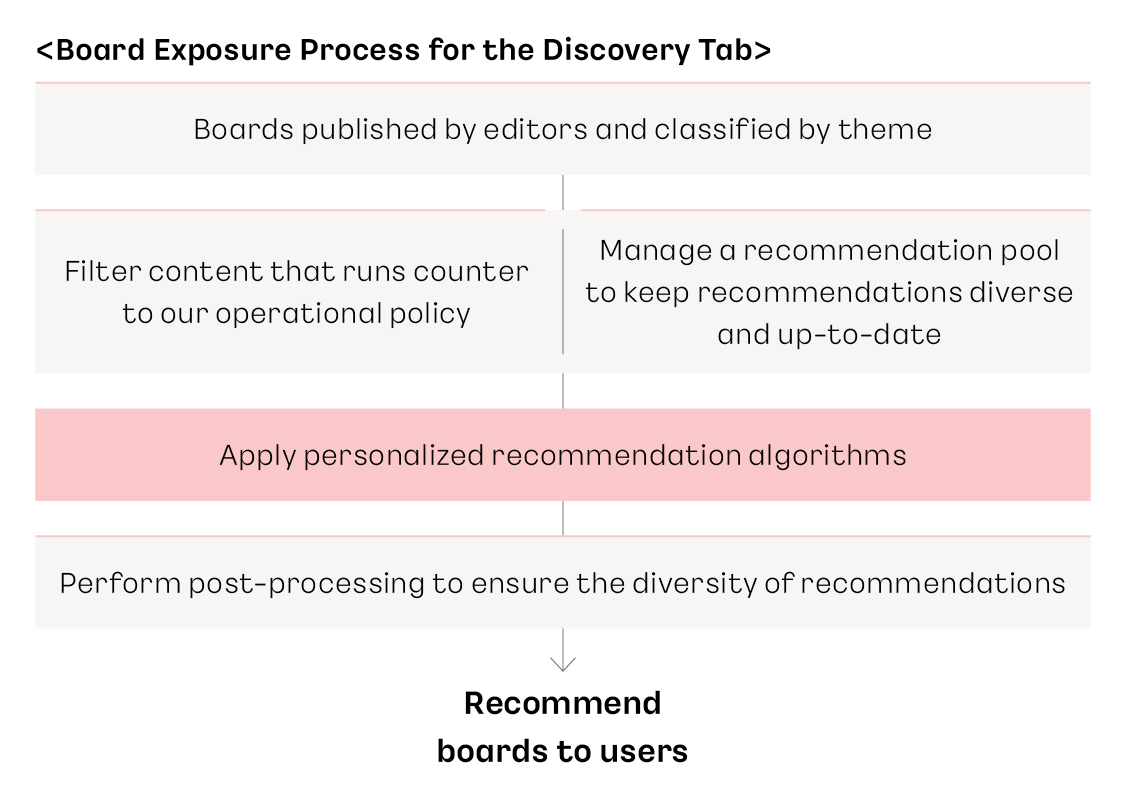 - Journey to Discover Your Interests -
Kakao View works tirelessly from the aspects of technology and service to connect users with a diverse content ecosystem. Not only do we optimize our offerings to user interests but also ensure diversity in the recommendations that we deliver. By doing so, we promote the continuity of meaningful discoveries and connections for both users and View editors.
KakaoTalk Wallet, the Beginning of a Walletless World
KakaoTalk Wallet is our electronic wallet service to store and manage a user's identification, licenses and certificates within KakaoTalk. In particular, the KakaoTalk Certificate which is easily issued through KakaoTalk Wallet comes in handy in a secure manner when users need authentication, certification and e-signature.
- Kakao Certificate for a Simplified and Convenient Life -
A number of users have chosen Kakao Certificate for simple authentication to log in and use nearly 60 public services, including National Tax Service's streamlined year-end tax adjustment, Government 24 and national health insurance. The certificate service also played a pivotal role in weathering the global pandemic through its application to no-show COVID-19 vaccine booking and simple authentication for vaccine appointments. In November 2021, we were recognized as a certified electronic signature business by the Ministry of Science and ICT and the Korea Internet & Security Agency to serve even broader applications with our trusted and safely managed certificate. Kakao Certificate reached 35 million in number of users as of February 2022 for its easy-to-use and convenient user experience, and will serve the public interest by expanding its availability across a range of applications that make people's life more convenient.
<KakaoTalk Wallet's Growth Log>
· Dec. 2020 Initiated the KakaoTalk Wallet service
· Jan. 2021 Supported private certificates for year-end tax adjustment
· Mar. 2021 Added Shake functionality for QR Check-in
· May 2021 Initiated the same-day booking service for no-show COVID-19 vaccines
· Jul. 2021 Initiated the COVID-19 vaccine certificate service
· Aug. 2021 Supported Kakao certificate log-in for COVID-19 vaccine booking
· Nov. 2021 Opened the business card service
· Nov. 2021 Gained recognition as a certified e-signature business
· Dec. 2021 Surpassed 30 million in number of users in just one year after launching
Open Innovation for Win-Win Partnership
To make a better world Kakao shares its technology with everyone participating in the ecosystem to pursue open innovation for shared growth. Our aim here is to establish a virtuous cycle whereby our technological capabilities and ideas from external organizations interact with one another to bring never-before-possible innovation to life. Our open innovation activities are classified into 'open source' to share our source codes with all, 'industry-academia cooperation and conferences', 'partnership with external organizations' to generate collaborative synergy, and 'investment in new businesses' such as startups. We will continue with these activities to drive the wholesome growth and innovation of the entire IT ecosystem as well as to elevate our internal development capabilities.
<Kakao's Open Innovation>
· Open source : We share our open source codes to assist all developers in learning and growing through interactive communication.
· Industry-academic cooperation and conference hosting : We arrange venues for all ecosystem participants to discuss and share knowledge and information for innovation.
· Partnership : We work with partners to ensure that knowledge, technology, and new ideas are widely shared and disseminated.
· Investment : We invest in companies that have new technology and ideas to bring innovation to life.
[Open Source]
OLIVE Platform for Open Source Management Service
As open source is used widely and its management gains importance, this drove us to set the course of our open source policy to 'help properly use and contribute to open source'. In July 2021, we officially launched OLIVE Platform as our open source management service to take the lead in establishing and developing the development ecosystem. This platform is aligned with GitHub and supports file uploads to analyze added projects in order to verify open source licensing and related obligations while creating reports. OLIVE Platform is distinguished for its easier, faster, and more accurate open source verification, which is made possible through its credible open source database. This assists independent developers and small-size venture firms as well as developers and startups in better complying with open source licensing obligations and focusing more on their development work.
<Features of OLIVE Platform>
· Real-time scanning in alignment with GitHub : Adding the GitHub URL to the project immediately triggers scanning.
· Open source data registration and sharing : Open source data is registered and added to the database to reuse such data for automatic analysis later on.
· Fast and accurate open source verification : Fast and accurate open source verifications are made possible with a reliable open source database.
<Use of OLIVE Platform> As of Jan. 2022
· 390 or more projects
· 170 or more open source licenses
· 7,300 or more open source components
- Automation of Open Source License Verification -
We have continued to improve and automate our open source license verification methodology and process. OLIVE Platform has established a virtuous cycle whereby data is registered by users during project analyses, quality data is amassed through manager reviews, and a rise in registered data leads to more automatically analyzed data. Through verification, users continuously add to open source data, and more than 70% of the used open source is being automatically mapped. OLIVE Platform also allows comparison between previous and new changes made in open source projects so that users can check the modifications and manage risks accordingly. This also helped improve issues with existing open source analytical tools which required a huge amount of human resources and costs for open source data input.

Open Source Governance for OpenChain Certification
In January 2022, we achieved the International Open Source Standard certification (ISO/IEC 5230:2020) in recognition of our open source capabilities. Published by the OpenChain Project, ISO/IEC 5230 is the first international process management standard to define open source compliance and process management that can be trusted along the software supply chain. This certification is a validation of Kakao's open source capabilities and is expected to elevate the credibility of our open source management service OLIVE Platform.

Open Software Application and Sharing
Kakao has developed and shared its open software such as Buffalo and Khaiii to take the lead in technology advancement. Our annual if Kakao developer conferences arrange open source sessions for developers to share ways to understand and apply open source, and we are increasing the application of open software to our services to contribute to the development ecosystem. Our efforts to raise awareness on open source and improve capacity across the overall development ecosystem include sponsorship for open source events, participation in NIPA (National IT Industry Promotion Agency) projects, software community activities, and open source training and advisory.
<Our Sponsorship for and Contribution to Open Software Development>
2021
· Served as an author for NIPA's enterprise open software governance guides
· Served as a lecturer for NIPA's Open Software Management Academy
· Sponsored summer/winter competitions for university programming clubs in the Shinchon area
· Provided open source lectures to Chungnam National University, the Ministry of Defense, Jeju National University, and Shinhan Bank
· Participated in KOSSA WISET SW coordinator training courses
2020-2021
· Engaged in open frontier activities for NIPA's professional developer project
2019-2021
· Served as an official sponsor for the NIPA Contribution Academy
2017-2021
· Offered open source advice to the Army Headquarters, Shinhan Bank, NC Soft, and ETRI
[Industry-Academia Cooperation & Conferences]
Kakao | if (Kakao) 2021 conference
· Host annual if (Kakao) conferences to pursue win-win partnerships with developers and drive the wholesome growth of the entire industry
· Held nearly 120 sessions at the 2021 conference with a focus on service, technology, business, partners, ESG and work methods
Kakao Mobility | NEMO 2022 Tech Conference
· Held the first Tech Conference in February 2022 to introduce our technology vision and development status and to contribute to a partnership-based ecosystem
· Introduced future mobility solutions (autonomous driving, UAM (Urban Air Mobility), and digital twins), TMS (Transportation Management System) and navigation technology products
· Recorded over 30,000 cumulative views
Kakao Enterprise | AI talent development and partnership
· Signed an MOU with the the Artificial Intelligence Institute of Seoul National University (AIIS) to expand the scope of research partnerships and develop AI advisor services
· Operate a research membership program for external researchers to engage in collaboration without regard to employment contracts, hours and locations
Kakao Brain | Joint AI research partnership
· Signed MOUs with seven university AI research labs to engage in joint research for 3 years until October 2024
· Set a goal of presenting new research methodologies with a focus on super-giant AI and deep learning technology
Kakao Brain | Real-time communication & open mini conferences
· Host real-time communication conferences on the last Wednesday of each month to elevate interest in and accessibility to AI technology
· Held an open mini conference in December 2021 to introduce diverse core technologies – super-giant AI, healthcare, metaverse, blockchain, etc
[Partnership with Other Corporate Peers]
Kakao | Cooperation and opening in the areas of AI, ESG and IPR
· Teamed up with SKT to jointly develop AI technology across all areas including infrastructure, data, and language models
· Plan to share jointly developed AI technology with academia and startups to give back to society
Kakao Mobility | Collaborating to advance UAM (Urban Air Mobility) services
· Signed an MOU with Volocopter, an UAM aircraft manufacturer, in July 2021
· Develop business models to deliver UAM services tailo-rmade to the Korean market and analyze the feasibility of UAM business based on mobility data
Kakao Enterprise | Implementing the win-win Boost-Up program
· Implemented the win-win Boost-Up program with KDB to help startups with digital transformation and work infrastructure improvement
· This program discovers competent companies and supports cloud-based business commercialization, 1:1 technology mentoring and sharing Kakao's operational know-how
[Investment]
Kakao | Raising joint ESG funds
· Raised KRW 20 billion joint ESG funds with SKT
· Invested a total of KRW 3 billion as of December 2021 in CO:ACTUS and SENSEE which provide services to the socially underprivileged and MARVRUS which offers early childhood learning content
· Plan to identify, nurture and invest in ESG-focused innovative startups that leverage information and communications technology and service
Kakao Mobility | Investing in autonomous driving system developers
· Made strategic equity investments in Autonomous A2Z and ThorDrive that are experts in passenger transport and logistics transport respectively to fully introduce autonomous driving services in Korea
Kakao Mobility | Acquiring HD map technology businesses
· Acquired Stryx an HD map system development startup, to combine high-definition mapping with navigation and vehicle allocation to pursue innovation in geo information technology
Kakao Investment | Investing in line with technology trends
· Made fund investments in Blue Point Partners, a KAISTbased technology accelerator, to identify trends among millennials and Gen Z and form ties with tech-driven undergraduate startups
· Invested in Bigwave Robotics, an online robotic commerce platform, to keep pace with the rapidly growing robotics market
· Invested in KLIeon a deep learning image generator, to secure AI imaging technology
· Made fund investments in Seoul Techno Holdings which invests in high-tech startups in their early phase leveraging Seoul National University's technology IP and startup infrastructure
Kakao Brain | Investing in AI-enabled drug developers
· Plan to jointly develop AI drug design platforms by combining the new drug design technology owned by Galux with Kakao Brain's super-giant AI models to lead the global AI drug development sector